Heavy turnout, few problems reported at Horry County voting sites | Election
Horry County polling locations saw heavy turnout Tuesday, but there were few problems reported to elections officials.
Sandy Martin, the director of the county's Voter Registration and Elections Office, said there were some problems at the Brownway precinct at Pee Dee Elementary School Tuesday morning where "the ballot cards were not put in the box and we didn't know it." A similar issue arose at the Babyboro precinct at Bethany Baptist Church in Loris. Martin said her staff responded to those problems quickly.
She said there were a few other issues with voting machines and scanners malfunctioning, but there were no widespread problems. She credited state lawmakers' decision to allow all residents to vote early with the smooth process. Of the more than 250,000 voters in the county, about 40% voted early.
"Had we not already voted 40%, there really would have been [longer] lines," Martin said. 
She expects about 80% of registered voters will make it to the polls this Election Day, compared to around 72% in 2016.
Scenes from the polls
The 7 a.m. sun peaking over a distant treeline cast long shadows from voters who had gotten up early to cast their votes at Free Will Church on 67th Avenue North in Myrtle Beach. But by 8 a.m., the line had dwindled down to nothing. 
Nurse Michael Jeffers stopped by the polls on a break from work around 9:45 a.m. The large crowds during early voting persuaded him that picking the president on Election Day might be easier since so many people had already done their civic duty prior to Tuesday. "I was right in and out," he said. 
Jeffers said health care is a major issue that factored into his vote during the era of COVID-19.
"I have a lot of patients that need care and don't have access to it," Jeffers said. "With coronavirus now, it's so hard for the elderly population to get into the doctors and be able to receive face-to-face treatment. So many things can't be diagnosed over the phone."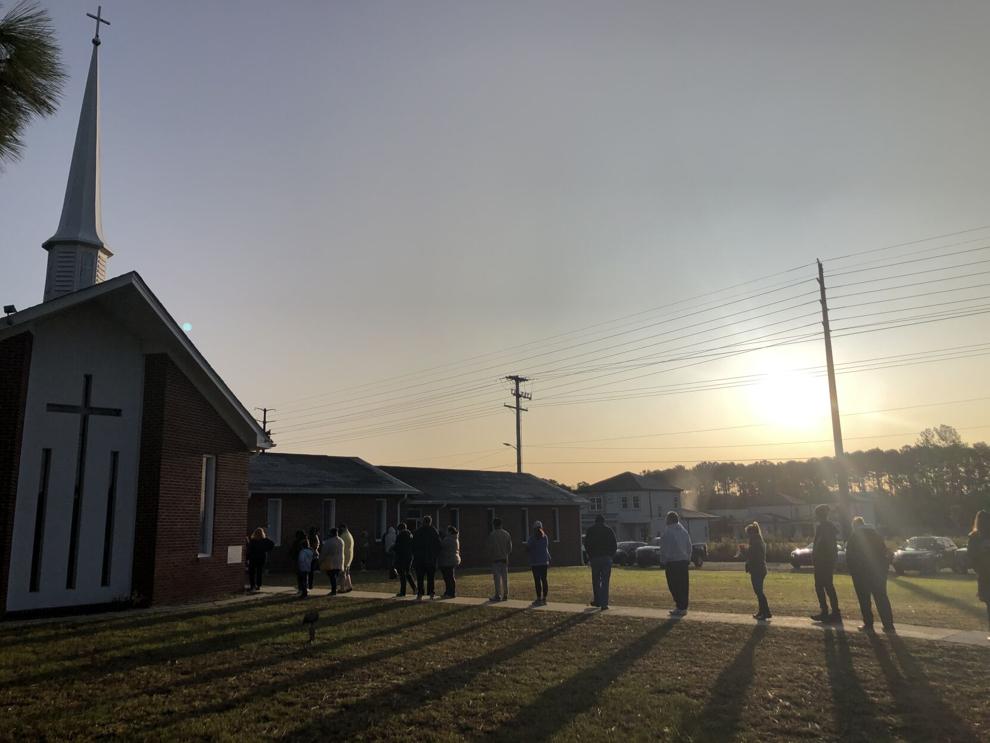 Brittny Hurt also swung by the church on 67th, casting votes for both Republicans and Democrats.
"It's always iffy with politicians in general, you don't know if they're telling you the truth but they're not," she said. "You take a stab in the dark and you hope and pray for the best." 
Alexandra Stewart came to the polling location on Highway 15, in part to set a good example for her younger sister. 
"And especially this one. It's monumental," said Stewart, who's preparing to go to law school after witnessing racism against black patrons during bike week at the restaurant where she was a waitress. "It's so important, especially to what I strive for, which is equality for everyone." 
Stewart cast her vote for the Biden-Harris ticket, as well as Jamie Harrison. She voted on Tuesday instead of early voting because she knew her vote would be counted. 
"The president in office that's currently in office now is very divisive and dangerous," Stewart said. "It's detrimental to our future, our children's future. I wouldn't want my children growing up in it. I see my people dying on TV, I see my people dying on my phone, and then my daughter sees it. It's right there. It's always been happening, but now it's on the forefront and I'm so glad that there are people who can really see it for what it is instead of hearing about it and forgetting about it." 
The line at the Academy of Technology and Academics on U.S. 701 extended into the parking lot around 8:30 a.m., with voters ready to cast their ballots.
"I felt the importance of getting out here," said Kelly Vogel of Aynor. "I didn't care how long the line is. I wanted to make sure I got out and voted." 
Page Spivey was in line a few yards ahead of Vogel, and she said this was the first time she had ever voted. 
"I never felt like it before," Spivey said. "I didn't feel my voice was going to be heard. This year I know my vote matters."
Meanwhile, over at Aynor Town Hall, the line extended down the sidewalk towards the downtown area. 
Teachers Jackson and Kyle Woodle brought up the rear of the line, and both said they didn't do early voting because with their jobs they simply hadn't had time to go before today when schools are closed. 
"As a history teacher, I see value in it [voting]," Jackson Woodle said. "It's important as Americans … we get this privilege."
In Conway at Whittemore Park Middle School, the line of would-be voters momentarily slowed later in the morning, but voters in the parking lot said earlier in the day the line was also out the door and spilling into the school's parking lot. 
Quenten Little cast his vote there, and he said he knew it was important.
"My grandma raised me to vote," Little said. "She always had me working polls with her, and picking up people so they could go vote."
Voicing his support for President Donald Trump outside Daisy Elementary School in the Loris area, Tim Doherty said he voted because he wants to "keep America free."
"It's as simple as that," he said.
While he's used to casting paper ballots, this time around Doherty used a voting machine.
"It worked pretty good," he said. "There were no problems."
He added the entire voting process, which took about half an hour, went smoothly.
"Line was great, people were great, everything was safe," he said.
While many opted to vote early this year, some instead chose to do so on Election Day, as they've typically done for years.
That's the case for Democrat Mercane Davis, a longtime resident of the Longs area, who voted at the Longs Head Start Center in the Freemont community.
"Maybe my vote, it'll help somebody," she said. "That's the way I look at it."
Sandra Long, who also voted at the Head Start Center, said she wanted to vote on Tuesday to try and avoid long lines.
"I already had COVID-19 one time," she said.
Long said she wanted to cast her ballot
because "there's so much going on, a lot of negative stuff." She hopes her vote will help spur positive change.
North Myrtle Beach Middle School teacher Kelly Dailey said she voted on Tuesday because she was off work at that time. 
"When you're given the opportunity to voice your opinion in an appropriate manner, you should," Dailey said. "It's okay to say 'I don't agree' and still be civil to one another. I think with this election in itself, I think we've all seen the good, the bad and the ugly." 
Dailey, a parent of two, said her two biggest concerns are health care and the economy. 
She voted for Trump at a polling location on Little River Neck Road. 
"What we've seen him be able to accomplish in four years is more, from the economy standpoint, than any of them have accomplished in many, many years," Dailey added. "Biden's been in the political scene as long as I've been on this earth but he hasn't really accomplished much. Trump may be a jerk and not have a filter and say really what is on his mind, but from an economic standpoint and where I'd like to see this country for my children, I believe he was the best choice moving forward." 
Linda Pape and her husband also voted on Little River Neck Road shortly before 11:30 a.m. They had tried early voting three times last week at the North Strand Recreation Center, and again on Monday, but the lines were too long every time they tried. 
"The lines were always hours long," Pape said. "We even went yesterday. We didn't even get into the parking lot. It was so packed. Cars were everywhere, the line was so long and we just hoped that because so many people had voted previously, it wouldn't be that bad today." 
They were in and out in five minutes.